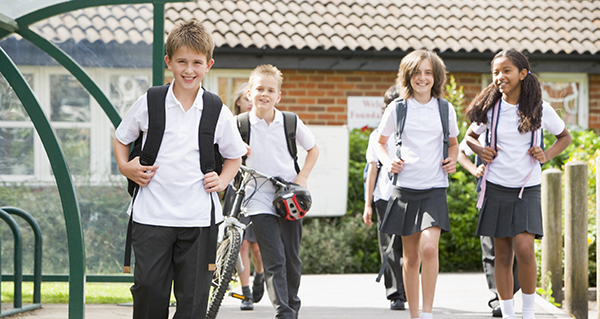 One of the main concerns that parents consider when moving to a new area is if they can find quality schools for their children to attend. It is not enough to just have a school that is conveniently located but it should be a school that will provide the best educational opportunities possible and offer a wide range of activities for a child to develop and mature. Here are a few factors about the Escondido School District that parents may want to know to help them make their decision.
The Schools
The EUSD works closely with the community to deliver the best possible learning experience for students from all different backgrounds so that they will grow to become productive, strong contributors to the surrounding community. Their main focus is to build academic learning for their more than 18,000 students in their K-8 school system as well as the 18,500 additional students in their 5 different high schools throughout the city.
The focus of the EUSD is Universal Student Achievement where every student, employee, parent, and community members work together to help students reach the highest possible achievements while under their care. This requires students to have challenging curriculum that meets a high level of academic requirements while incorporating creative, social, and physical experiences in the process.
Alternative Educational Opportunities
In addition to the public schools there are also 5 Charter schools where student's education is publicly funded independent of the established school district. These schools are considered to be completely separated from the EUSD and offer alternative teaching styles that may be better suited for students who do not do well in a traditional classroom setting. Escondido is also home to 19 different private schools that can provide even more specialized instruction either through religious guidance or specialized assistance to meet a child's specific needs.
EUSD PowerSchool Parent Portal
A unique feature of the EUSD is the PowerSchool portal that allows students and parents alike to manage each child's education by providing basic information like grades, attendance, demographics, courses, and other resources so that each parent can be kept abreast of their child's progress, challenges, and accomplishments when they need it. All information dealing with their particular child is easily accessible through a secure online portal relieving the parent from having to make phone calls, write letters, or make repeated visits to the school for information.
Parents can simply log into the portal at any time of the day or night and access any details they need to know about their child at their own convenience. A parent can view comments from their child's various teachers and connect to the teacher directly if they choose to. This saves valuable time for the parent and keeps them up to date on every activity their child is involved in throughout the school year.
Escondido Home Education Program
The city of Escondido also provides a Home Education Program as an alternative way for certain children to get a high-quality public education. Parents are afforded the opportunity to home-school their children through a public educational plan, which meets their family's unique needs. Students are provided with all of the needed textbooks and materials to complete their designated grade level. Parents provide the needed instruction and all school work is submitted to the HEP (Home Education Program) Supervising Teachers that monitor the program to ensure that the children are meeting the expected standards required by the state.
Parents are supported in their efforts to educate their children through weekly workshops in the core subjects set up to guide them through the entire educational process. The coursework is often stringent and meaningful but can provide enjoyment for both parent and child at no cost. This type of educational program allows families to not only live together but to form stronger bonds as they all grow in this thriving community.
The idea of picking up stakes and moving to a new location is a serious one for any family but it is even more challenging when they are raising children and grooming them to become responsible citizens. This means that first and foremost in a parent's mind will be the quality of education and the opportunities that are afforded those children. Not all children learn the same way, nor do they have the same personalities, goals, challenges, and dreams. For that reason the City of Escondido offers a number of different educational choices to make sure that no child is missed in their chance for building a positive and productive future for themselves and their family.